TRIPLEN HARMONICS
The 'triplen' harmonics i.e. the 3rd, 9th and the 15th harmonics of the line frequency cause more damage to the system and heat up the neutral. Why is that?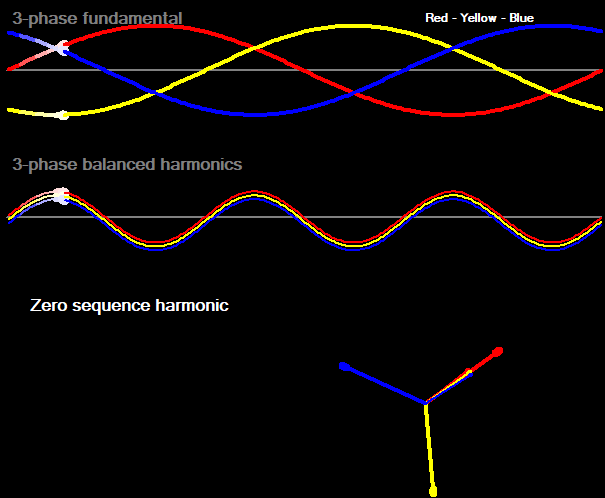 This is because these harmonics are actually 'additive' (vector addition) in nature in the neutral of a 3 phase 'wye' circuit. This is easy to understand. In a 3 phase 'wye' circuit the phases are separated from one another by 120 degrees. Now if we multiply 120 by 3 or 9 or 15 we get an integer multiple of 360 degrees, which is one complete cycle. This puts the harmonics from each of the 3 phase conductors in phase with each other in the neutral. Hence the neutral heats up.
Note this would not happen with other harmonics like 2nd, 4th, etc since that would not involve all conductors of the 3 phase to be in phase with each other in the neutral. This I call the prime number effect of number 3 and combination of 3 with other primes like 3, 5, 7 etc.
Triplen harmonics also overheat transformers (especially delta – wye types), affect solenoids (used in hydraulic circuits), lightening ballasts, non-linear loads like computers and indirectly initiates premature failure of anti-friction bearings. In short it creates a random failure pattern across a manufacturing unit, which most often becomes quite puzzling.
Not only the triplen harmonics affect plant reliability but also increases the losses of electrical power since the losses in electrical power are proportional to the square of the harmonic value.
Hence it is important to detect the presence of triplen harmonics for safe and reliable operation of the plant.
Multiple single-phase non-linear loads (e.g. computers, fluorescent lighting, single-phase AC drives, etc.) can be problematic on four wire systems (i.e. three-phase and neutral) because of excessive triplen harmonics, (i.e. 3, 9, 15, 21…), which add cumulatively in the neutral conductor. This results in:
• Overloaded and overheating neutral conductors (up 173% phase current).
• Overheated delta windings in distribution transformers.
• High earth to neutral voltages.
• Distortion of voltage waveform (including 'flat topping').
• Poor power factor.